In the App, "Trails" are GPS data (GIS Data) provided by a club/county/state so it is very precise. "Map Images" are digital copies of the paper maps used in the past that were created by a club/county/state – not quite as precise, but still have useful information.
On the app you can decide what trail data will be displayed. The default background map (Base Map) that The Next Trail uses is either Apple Maps (for IOS devices) or Google Maps (for Android devices). Under Preferences you can change the Base Map to different versions (e.g. Satellite Map or Hybrid Map).
If you have previously downloaded any Trails data, those trails will be overlaid on the Base Map.
Optionally you can also go to the stacked paper icon

at the bottom of the screen and select Show Map Images. If you have downloaded the Map Image for the county/area you are currently displaying, the digital copy of the old paper maps will be shown instead of the Base Map.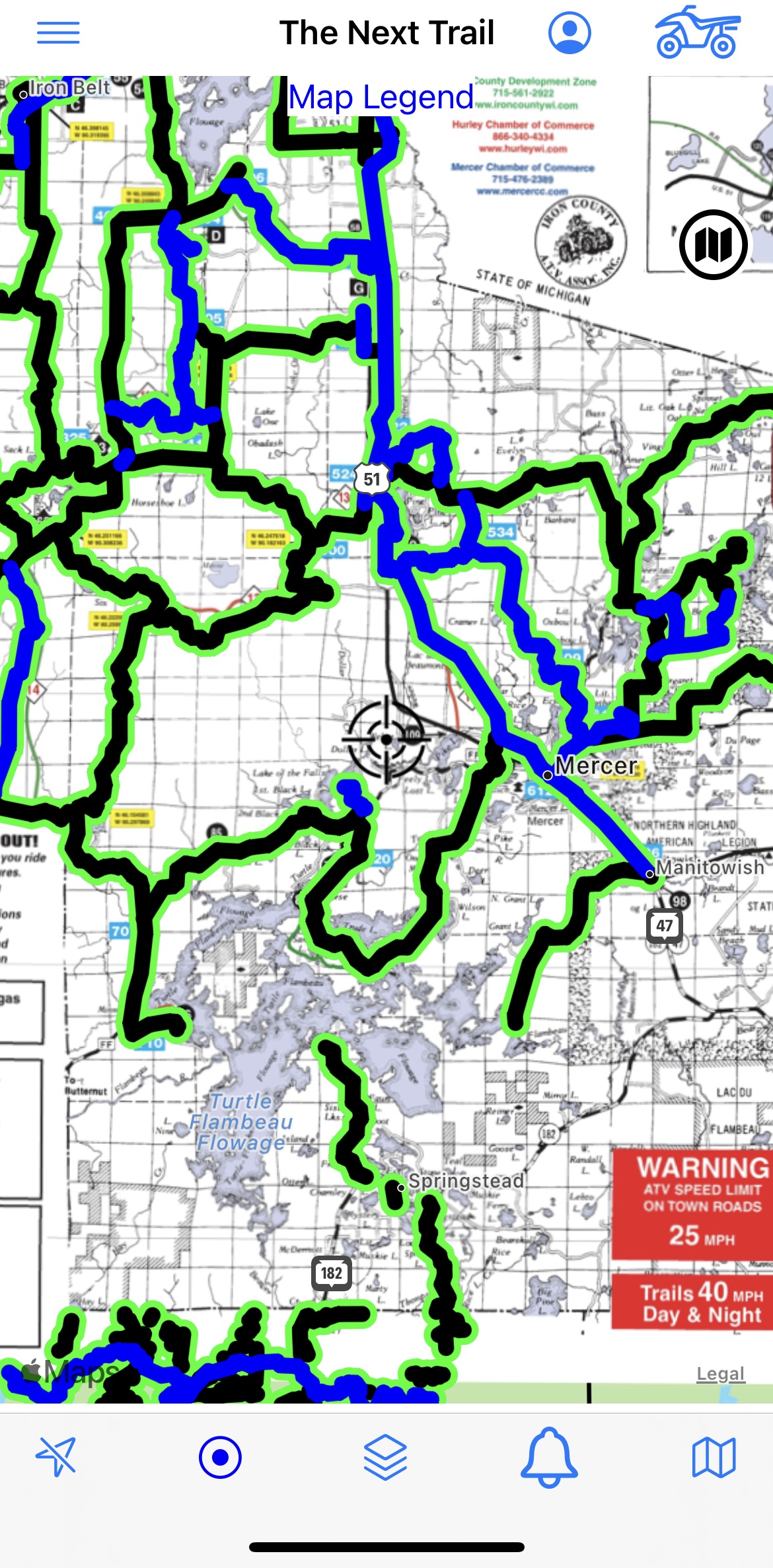 Here is a sample of a map showing a Map Image (old paper maps) as the background with precise GPS Trails on top.
We add more trails as we find more data. You can get a list of all the Trails and Map Images available on the app under the folded map icon

.
The following table shows the approximate coverage for each state for the different types of ATV and Snowmobile trail data that can be displayed. Note – we have also started to add other categories (e.g. Horse Trails, Bike Trails, DogSled Trails, Hiking Trails, OHM Trails, Paddle Trails, Snowshoe Trails, XSki Trails, etc,). These are pretty limited right now – Wisconsin has most if you'd like to preview them.
State
Snowmobile
Trails
Snowmobile
Map Images
ATV
Trails
ATV
Map Images
AK
Limited
AZ
Limited
AR
Limited
CA
Limited
CO
Limited
FL
Limited
GA
Limited
ID
Limited
KS
Limited
KY
Limited
LA
Limited
MI
Excellent
Excellent
Excellent
Excellent
MN
Excellent
Excellent
Excellent
Excellent
MS
Limited
MO
Limited
MT
Limited
NB
Limited
NV
Limited
NH
Good
Good
Good
Excellent
NM
Limited
NY
Good
NC
Limited
OH
Limited
OK
Limited
OR
Good
PA
Limited
SC
Limited
SD
Limited
TN
Limited
TX
Limited
UT
OK
VT
Limited
WA
Limited
WV
Limited
WI
Excellent
Excellent
Excellent
Excellent
WY
Limited
Approximate Coverage
Although we have put an initial emphasis on MI, MN and WI we are always looking to add more data to the app. If you know of trail data (GIS Data or digital versions of paper maps) that is available and you would like us to add it to the app, simply email a link to the data to: support@thenexttrail.com and we will review it for accuracy and add it if it looks good.
Here's a short video on how to show different background maps on the App: